WemakeAppz believes in High Quality Application Development .We execute all of our application development in Agile methodology which ensure high customer satisfaction by delivering the solutions quickly and iterative way giving an opportunity to customers to be part of the development cycle and feedbacks from customers are incorporated in the product lifecycle ensuring customers get exactly what they want.
Agile development is known for being cheaper, faster, and quicker to respond to changing market demands. Welcome changing requirements, even late in development. Agile processes harness change for the customer's competitive advantage. In WemakwAppz we consider Agile App development as our core differentiator and takes Agile principles to heart.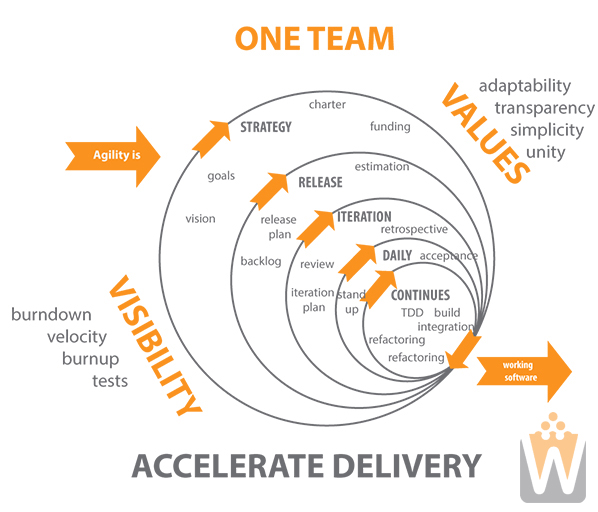 Agile development centers around short "sprints" where developers race to fix bugs and write working software within a span of anywhere between 4 to 6 weeks. Agile is most often talked about in terms of modern Web 2.0 applications where we see frequent updates and changes to code as feature sets are enhanced and new functionality is added at a rapid pace. This methodology is typically seen as the opposite of the waterfall process where development and management follows a sequential process. In waterfall projects, progress is seen as cascading steadily through the phases of conception, initiation, analysis, design, development and testing.
Agile ensures a continuous collaboration between customers and developers which helps developers undermodel which get translated to a complete IT solution Another important characteristic of Agile is progressive elaboration and phased deliverables. Agile gives an opportunity stand more about customer choices and preferences and business to customer to choose what they wanted to implement first and helps them to go to market with critical solution part much earlier than waterfall model.